Introducing our Moldatherm® Heaters
These unit heaters for electrical heating and resistance heating are easy to assemble.
Our Moldatherm® series unit heaters in the forms of standardized cuboid (plain type), half-cylindrical (half-cylinder type) or 1/4-cylindrical (quarter-cylinder type) are easy to assemble and easy to replace for maintenance.
Block construction method makes assembly and maintenance so easy!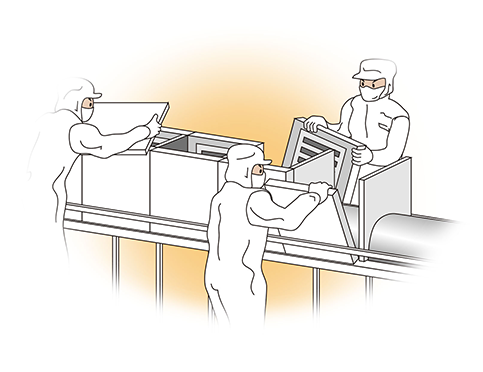 The furnace can be easily assembled by sequentially following steps 1 to 3 shown on the right. Maintenance is easy, too.
More energy saving and higher efficiency for
electrical heating furnaces and resistance heating furnaces
The advantages of the Moldatherm® heater series unit heaters for electrical heating and resistance heating are light weight, low heat storage and energy saving. See the comparison between a stainless steel wire annealing furnace using a Moldatherm® heater and a brick body furnace made by our competitors.
Introducing Moldatherm®(LGO)...
The comparison of JTEKT Thermo Systems Moldatherm® heaters and bricks in stainless annealing furnace.
Moldatherm®(LGO)

Bricks use
1.Heating-up time is one fifth bricks furnaces.

A small amount of heat storage will drastically shorten the heating-up/cooling-down time during furnace operation. In addition, it extends the uptime of the equipment while simplifying intermittent operation shifts, thus making it a highly productive furnace.

2.External wall temperature is reduced with high heat insulating.

The high insulation effect of the Moldatherm® (LGO) lowers the wall temperature of the furnace which helps create a high work efficiency environment.

3.Electric energy is 30% reduced with little heat loss.

The Moldatherm® (LGO) has low thermal conductivity which reduces heat dissipation. Because it does not emit any unnecessary heat, electricity costs during operation are low.
Tissue characterization (Background information)
Item
Specifications
R: regular-type
RLS: high-temperature
quality of material
Al2O3-SiO2
quality of material
Fe-Cr-Al
Max. operation Temperature
1100°C
1200°C
Coefficient of thermal conductivity
0.20w/m·K (In the atmosphere · at 1000°C)
0.17w/m·K (In the atmosphere · at 800°C)
0.15w/m·K (In the atmosphere · at 600°C)
Specific heat
1130J/kg·K
Degree of density
210kg/m3
230kg/m3
Contraction percentage
0~2.5%
(800~1100°C)
0~1.9%
(900~1200°C)