Semiconductor Equipment Development History
JTEKT Thermo Systems entered the semiconductor manufacturing equipment market in 1970 with the release of a horizontal heat treatment system manufactured under the Tempress Japan brand. At the time, the Company was known as Koyo Lindberg, an identity we held from July 1967 to October 1999. The Company has since provided a wide range of heat treatment technologies that have played a role in the growth and development of Japan's semiconductor industry. Our focus has been on developing vertical heat treatment equipment driven by LGO heaters with thin wire elements. Other examples include lamp annealing equipment and clean oven systems.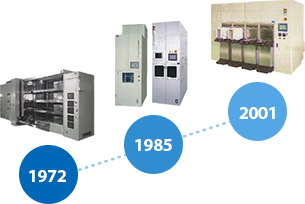 Semiconductor Equipment
Manufacturing semiconductor integrated circuits requires many types of equipment to do a wide range of processes. Examples include doping equipment for adding minute amounts of impurities to semiconductors, and exposure equipment that burns circuit patterns onto substrates (a process known as photolithography). JTEKT Thermo Systems contributes to this extensive array of products by manufacturing heat treatment equipment used in processes such as oxidation and deposition.
Business Approach
Growing niche markets
JTEKT Thermo Systems focuses on the niche markets we excel in and makes every effort to develop the new technologies and equipment those markets demand.
Until 1972 Horizontal diffusion furnace
The model 85000 horizontal diffusion furnace (made completely in Japan) was completed in 1972. With a subsequent upward trend in wafer sizes, the model 208A-M300 three-level furnace for 8-inch wafers has become our mainstay seller today. The technology used in our horizontal diffusion furnaces has also been applied to diffusion furnaces for solar cell manufacture. These models are currently used by major Japanese manufacturers seeking to meet increasing demand for natural energy sources.
Related products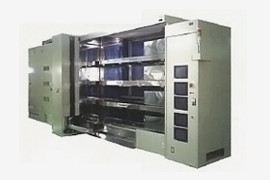 Until 1985 Lamp annealing system
Our first lamp annealing system was developed and released using Japanese technology exclusively. In 1992, we developed the fully automatic model RLA-311. Our current focus is lamp annealing systems for SiC power devices.
Related products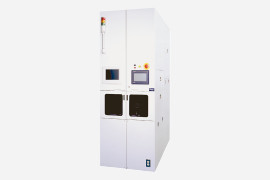 Until 1985 Vertical diffusion furnace
JTEKT Thermo Systems became an industry pioneer with the development of our VF-2000 vertical oxidizing diffusion furnace. In 1989, we developed the VF-5000 Series of vertical furnaces for mass-production. These models feature clean robots and have become flagship products. To support larger wafer sizes, we have also developed and released models VF-5700 and VF-5900 for 300 mm wafers. We are expanding sales of equipment for SiC power devices by developing equipment such as an 1,800°C activation furnace and 1,400°C oxynitriding furnace.
Related products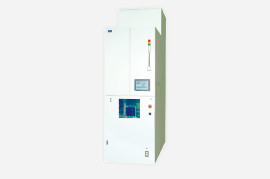 Until 2001 Clean oven system
This clean oven for 300 mm wafer developed for back end users became a top-seller after a large number of deliveries to OSAT companies and other clients. We are now expanding sales of improved systems for use with next-generation fan-out wafer-level packaging technology.
Related products