MLCC/LTCC Manufacturing Equipment
What is MLCC?
MLCC is an acronym for multi-layered ceramic capacitors. These chip-type capacitors are designed to be small and large-capacity thanks to multi-layered (laminated) ceramic dielectrics and metal electrodes. The compact, heat-resistant design makes MLCC ideal for high-frequency circuits, with frequent adoption in computers, communication devices, video devices, automobiles, and most other digital devices.
In recent years, electronics have become more prominent in automobiles, smartphones have continued to become more sophisticated, and IoT (Internet of Things) has become increasingly popular. This has brought a rapid increase in demand for MLCC, which have proven to be highly versatile electronic products.
What is LTCC?
LTCC is an acronym for low temperature co-fired ceramics. Because these ceramics are fired at low temperature, it is possible to use low-resistance metal as the conductor, reducing resistance loss. This makes them suitable for high-frequency applications. As wiring patterns can be formed on the surface layer and on the inner layers, lamination and flattening can be performed easily. In addition, due to the small variation in contraction, high-precision and high-density mounting are possible. These ceramics are expected to be used in a wide range of fields including circuit boards and semiconductor packages.
JTEKT Thermo Systems MLCC and LTCC Production Heat Treatment Equipment
As a manufacturer of heat treatment equipment for MLCC/LTCC production, JTEKT Thermo Systems strives to solve various customer problems by using advanced technology and high-reliability manufacturing supported by an extensive delivery history.
Although the company is able to provide a wide variety of equipment as a general manufacturer of heat treatment equipment, this page introduces some representative JTEKT Thermo Systems products.
Processing Applications
JTEKT Thermo Systems heat treatment equipment for MLCC/LTCC production is generally used for debinding and firing, reoxidation, and electrode firing, but the equipment can also be designed to meet various customer-specific requests, including intermediate processing applications.
Features and Strengths
Manufactured according to the varied individual experiences of the manufacturer, MLCCs and LTCCs do not have a designated "standard" when it comes to manufacturing.
In addition to its heat treatment equipment platform of simple, inert gas ovens and continuous mesh belt-type furnaces, JTEKT Thermo Systems regularly provides one-of-a-kind customer-specific equipment.
JTEKT Thermo Systems supports high-quality MLCC and LTCC manufacturing through advanced atmosphere control and heating control technology developed through years of experience.
Products
Demonstration and test areas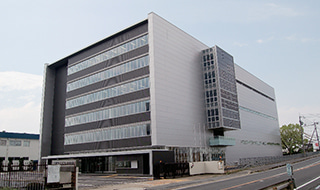 Comprehensive manufacturer of heat treatment equipment, which solves heat treatment problems from different fields beyond the boundaries of fields and areas
From equipment for research and development to production facilities, by assembling technicians in major business areas for vitalization of new products and technology development, and by installing our demonstration equipment for experiments and evaluations, JTEKT Thermo Systems is not only developing processes of its own but also providing the system that can be used for customers' pre-tests and for performance evaluation.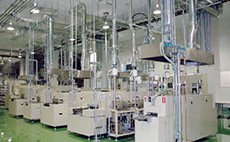 Continuous furnace area for electronic component manufacturing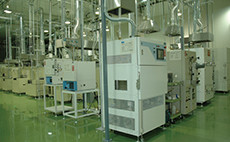 Compact electric furnace & oven area
About JTEKT Thermo Systems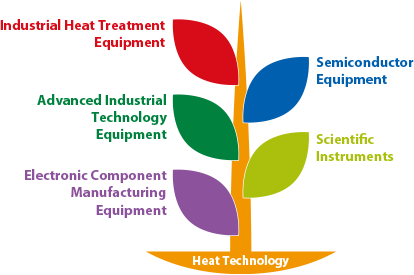 The metallic components, ceramics, etc. of formed and fabricated materials that form the foundation of the industry; the semiconductors and electronic components that support the latest technologies; the displays that enrich people's lives and next-generation batteries that control global environment pollution; and experimental developments to create all of these industries—it is not an overstatement to say that the heat treatment equipment created by JTEKT Thermo Systems is involved in all of the industries in our lives. With the unique technology created by the "Technology Tree" that fused the five pieces of "Technology Leaves" that were cultivated with a history spanning half a century, we continue to contribute to every field in the world.
International Offices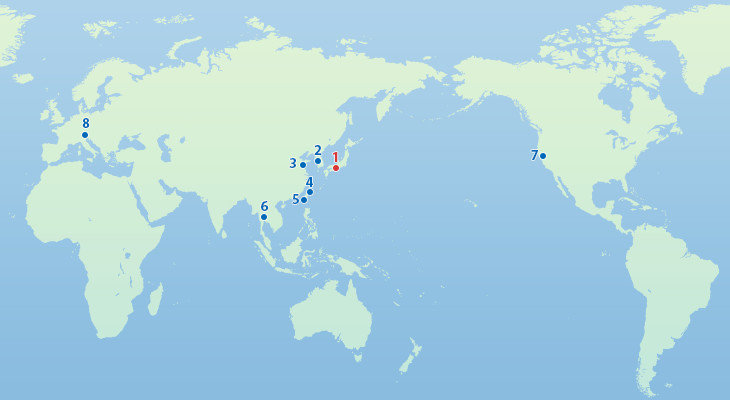 HEAD OFFICE
1. JAPAN (Tenri)
JTEKT Thermo Systems Corporation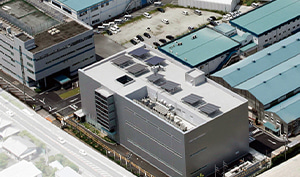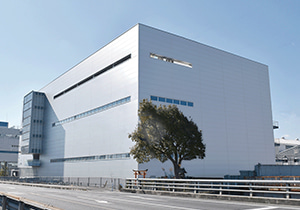 KOYO THERMO SYSTEMS KOREA CO., LTD.

3. CHINA (Shanghai)

KOYO THERMO SYSTEMS TRADING (SHANGHAI) CO.,LTD.

4. TAIWAN (Taipei)

KOYO THERMO SYSTEMS ASIA CO., LTD.

5. TAIWAN (Taichung)

KOYO THERMO SYSTEMS ASIA TECHNICAL SERVICE OFFICE IN TAICHUNG

6. THAILAND (Bangkok)

JTEKT MACHINERY (THAILAND) CO., LTD.

SANDVIK THERMAL PROCESS, INC.

CRYSTEC TECHNOLOGY TRADING GmbH
International Offices
Please click here for inquiries.