Optimized Design
We propose the optimal heat treatment equipment to match our customer's needs.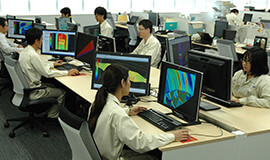 "I want to be able to do experimental development and produce in small quantities. And I want to make the transition to mass production easier."
"Although the area where we can install the machine is limited, we would like to have a machine with our desired specifications installed."
"Since the new treatment requires a uniform film deposition distribution, we want to be able to precisely control the temperature and atmosphere."
"I am concerned about safety since it will be used in a particular gas atmosphere."

These are some of our customer's requests and concerns. We answer these kinds of customer inquiries with our accumulated design know-how and propose the optimum equipment for heat treatment based on our extensive production records.
Please feel free to contact us.
Customization Examples
Vertical Furnace example
Support for gas box layout changes
Support for treatment using a liquid source at atmospheric pressure
Support for selenization (Se) / sulfurization (S) treatment
Vacuum support for large-bore furnaces (G4 size or larger)
Carbon nanotube growth equipment
Support for thin wafers (80μm or more)
Fan-out wafer-enabled equipment
Substrate support for large, FPD polyimide-cured panels
Support for wet vacuum processing
Support for dry vacuum (oxygen partial pressure control) processing
Support for in-situ cleaning using ClF3
Support for processing bulk transports of quartz cassettes
[Summary] The quartz cassette with wafers is transferred as it is, stacked, and subjected to heat treatment in that state.
Support for flat poly-Si (with no temperature inclination)
* Support varies depending on the model.
Flexible equipment layout
It is possible to move the gas box, etc. attached to the furnace to the rear side or under the floor and not just to the front or in the back. We can work around the restrictions of the equipment area and improve the maintainability of the equipment.

Horizontal Furnace example
Rapid cooling mechanism with automatic movable heater
Forced cooling mechanism with automatic opening/closing-type heater
Water injection cooling mechanism with automatic conveyance of quartz ampoules
Support for POCl3 and BBr3 diffusion using a cantilever loader
High-speed cantilever loader (with support for donor-killer treatment)
Lamp Annealing Furnace example
Mechanism to replace workpieces on susceptors
Simultaneous processing of multiple wafers
Support for continuous processing from oxidation to oxynitridation
Oven example
Support for both φ8" and φ300mm wafers
Please click here for inquiries.