HGC (Heavy Gauge Coil) Heaters
Highly cost-effective, long-life, heavy-gauge coil (HGC) unit heaters for semiconductor thermal processing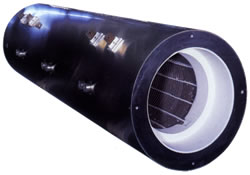 These HGC heaters usable at up to 1250°C of maximum working temperature are optimal as the unit heaters repeatedly perform comparatively high-temperature heat treatments for semiconductor diffusion furnaces. The heat sources using heavy-gauge coils are highly durable and realize long service lives.
HGC Heater
A combination of a heavy-gauge coil and patent spacer suppresses coil deformation. It is superior in high-temperature durability and achieves a long service life. The heaters are optimal for diffusion furnaces that repeatedly perform high-temperature heat treatments.
Features
A large number of interlocking coil spacers are arranged to support coiled heating elements.
Elasticity of the insulator prevents heating elements from being transformed.
The surface of the insulator is coated with zirconia to avoid particle generation.
Excellent heat-up and cool-down characteristics
Excellent high temperature stability
Applications
Diffusion Furnace,
Oxidation Furnace,
Horizontal Furnace,
Vertical Furnace Disposer
Specifications
Heating element size
7.3~9.3mm
Heater I.D. size
150~400mm
Flat zone length
150~1200mm
Cooling method
Natural cooling or water cooling
Temp. range
MAX 1250°C (Vertical Furnace) (AZTEC)
MAX 1250°C (Horizontal Furnace) (AZTEC)
Max. temp.
1250°C (AZTEC)
1200°C (HELIX-II)
Heat up and cool down characteristic
Heat up: >20°C/min at no load
Cool down: <5°C/min at no load
High temp. stability
1200°C±0.5°C at process
* Value varies by heater.