Overview
CAE; Computer Aided Engineering
For example ...
Prior to manufacturing actual products, computer simulations are done to verify whether the designed equipment specifications clear customer requirements or not.
Benefits of CAE
Shorter development/design periods
Lower costs for prototyping/testing
Better design quality
Visualization of physical phenomena
We use CAE in more than 100 projects a year. It is helping us to build the best quality into products and please customers.
Analytical fields we handle
JTEKT Thermo Systems Corporation is versed in thermal fluid analysis, structural analysis, heat treatment analysis and induction heating analysis, but also conducts cooperative/coupled analyses that combine these fields. The ultimate objective is to simulate the entire heat treatment process from equipment configuration to estimating the heat treatment quality of products processed by that equipment.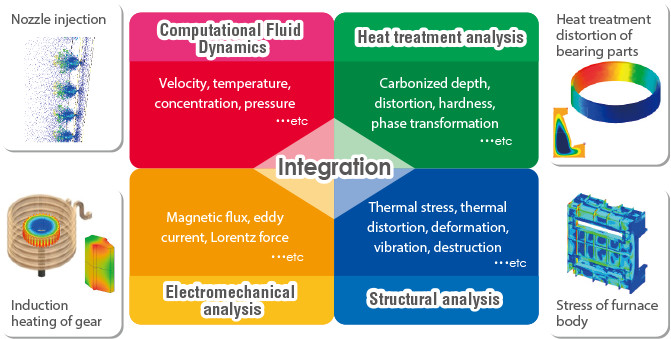 Moreover, tests are conducted by the same personnel placed in charge of analyses in order that we can corroborate analytical results.
Ex.: Measuring flowrates, temperatures, waveforms, distortion, etc.
Examples by product category
Thermal Fluid
Structure
Heat Treatment
Induction Heating
Industrial Heat Treatment
Rotary Drum Type Continuous Carburizing Furnace
Mesh Belt Type Sintering Furnace
Smart FLEC Carburizing Furnace
Induction hardening, Tempering furnace
Flow inside of a furnace
Muffle thermal stress
Treated product, Case hardness
Treated product temperature
Semi-
conductor
Horizontal Furnace
Horizontal Furnace

* Results from structural analyses are exaggerated so that deformations are easy to spot. The simulated deformations can differ from actual deformations, therefore caution is advised.
* This is but a sample of what we have done.
We have many more results from product development, etc.

Treated product temperature
Deformation in supporting board
FPD and Film Manufacturing
Clean Oven, Single Substrate Transfer Type
Clean Oven, Single Substrate Transfer Type
Flow inside of a chamber
Thermal deformation in a furnace bed
Electronic Component Manufacturing
Mesh Belt Type Sintering Furnace
Ceramic Conveyor Type Continuous Furnace
Gas concentration inside a furnace
Stress in a ceramic chain
Equipment for development
and prototyping experiments
Vacuum Purge Type Box Furnace
High-Temperature Clean Oven
Muffle temperature
Thermal stress in chamber sheet metal